Bodies of four people, believed to be an Indian family of four, including a baby and a teen, were found in Canada near the US border in what authorities believe was a failed crossing attempt during a freezing blizzard.
Investigators in the US and Canada believe the deaths are linked to a larger human smuggling operation that unravelled on Wednesday as the US law enforcement arrested Steve Shand, a 47-year-old from Florida, near the border and later came across more Indians who said that they were attempting to cross the border to get into the US.
In India, External Affairs Minister S Jaishankar said he was shocked to hear about the incident. Jaishankar tweeted, "Shocked by the report that 4 Indian nationals, including an infant, have lost their lives at the Canada-US border. Have asked our Ambassadors in the US and Canada to urgently respond to the situation."
According to court documents, a US Border Patrol in North Dakota stopped a passenger van just south of the Canadian border on Wednesday. Shand was driving and was with two undocumented Indian nationals. Inside the vehicle, officers found cases of plastic cups, bottled water, bottled juice and snacks.
Manitoba RCMP Assistant Commissioner Jane MacLatchy holds a news conference in Winnipeg on Thursday Jan. 20, 2022. (Associated Press)
As they were taking the three back to the border patrol station in North Dakota, the officers spotted another group of five Indian nationals walking.
They said they had walked across the border and had expected to be picked up by someone. The group said they estimated they had been walking for more than 11 hours, the report added.
A woman stopped breathing several times as she was transported to hospital. Court documents said she will require partial amputation of her hand. A man was also hospitalised for frostbite but was later released.
One of the men in the group was carrying a backpack that had baby supplies in it — clothes, a diaper and a toy. Court documents said he told the officers that it belonged to a family who got separated from their group overnight.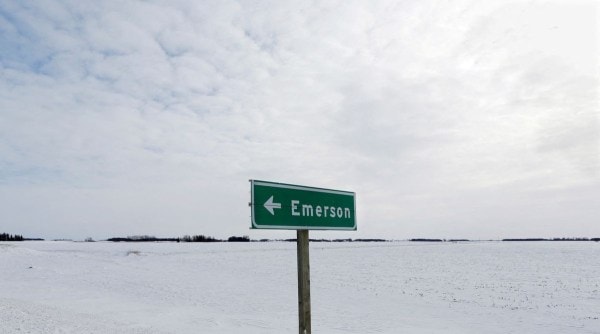 MacLatchy said work is underway to ID the victims, but at this stage, it appears they all died from exposure to the cold, the report said. REUTERS/Lyle Stafford
The bodies discovered in Canada have been tentatively identified as that of the family of four, the release from the US Attorney's Office said.
In Winnipeg, Canada, on Thursday, Manitoba Royal Canadian Mounted Police (RCMP) Assistant Commissioner Jane MacLatchy told a news conference that once they were notified that the family may still be in Manitoba, officers immediately began to search the area.
After a difficult search, she said, officers found three bodies together — a man, a woman and a baby — just 10 metres from the border. The search continued and a teen boy was found a short distance away. It is believed they died from exposure. "It is an absolute and heartbreaking tragedy," MacLatchy said.
They were wearing winter clothing, she said, but it would not have been enough to save them with the freezing conditions.
"These victims faced not only the cold weather but also endless fields, large snowdrifts and complete darkness," MacLatchy said, adding that wind chill had driven down the temperature to minus 35 C.
On Friday, India's Ambassador to Canada Ajay Bisaria tweeted that Indian authorities were working with Canadian officials. Calling it a "grave tragedy", he said an "Indian consular team is travelling today" from the Indian embassy in Toronto to Manitoba "to coordinate and help…We will work with Canadian authorities to investigate these disturbing events."
Dave Carlson, reeve of the municipality of Emerson-Franklin in Canada, said he was surprised to learn of the four deaths since illegal crossings had dropped significantly in recent years..
"If you look at the political climate on both sides of the border, it's just mind-boggling to me that anyone had that sense of desperation to try and cross in extreme conditions."
(With PTI inputs) 
"평생 사상가. 웹 광신자. 좀비 중독자. 커뮤니케이터. 창조자. 프리랜서 여행 애호가."